MOLLY'S ACRES AEROPONIC FARM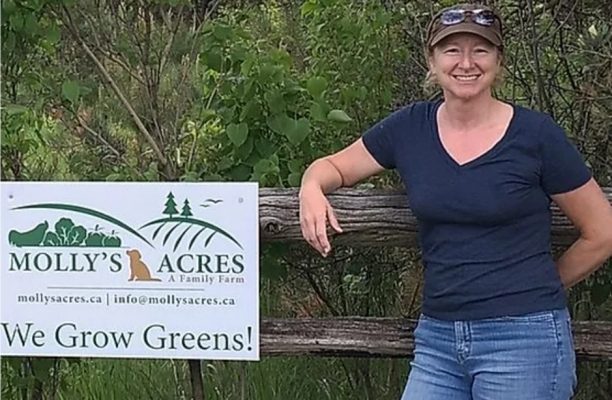 Molly's Acres is a small family farm located outside of Buckhorn, Ontario, 2 hours north east of Toronto.  The land, which they purchased in 2006, was the perfect spot for their future family farm.  Of the just under 100 acres,  over 1/3 of the property is either designated significant wetland by the provincial government or bound by a conservation agreement with Ducks Unlimited Canada. The other sections of land are used to support their small farming operation.
Most of the lettuces, greens and herbs are grown at Molly's Acres using an environmentally sustainable aeroponic technology.   They combine the use of a mineral plant food with our Tower Garden system. Using this technology, Molly's Acres uses 90% less space, 95% less water, and 100% less harmful pesticides compared to traditional soil based agriculture. Root vegetables and more space demanding produce are still grown in soil.  We are proud to say that all our products are grown without the use of harmful pesticides, herbicides, or fungicides.
As health conscious individuals, it was their desire to take control of their own food supply.  It was an opportunity for them to not only follow their dream, but also to work with their family and offer quality products to the surrounding community. 
The farm is named after Molly, their Golden Retriever.  The love that she was always so willing and eager to give is the same love that they put into the care of their family farm and the products that they offer.  Support local and order your seedlings and produce from Molly's Acres.