David Alleva has been testing and working with clients for decades on fat loss. David is a metabolic expert and after testing thousands of clients he has produced a metabolic enhancing oil "Liquid Gold" and now has biohacked blood flow. Listen to this episode while we discuss the benefits and the right way to do intermittent fasting; as well as blood flow, nitric oxide production and David's amazing new discovery!!!!
Listen / Watch Now »
She became interested in health and wellness, after her struggles with anorexia, nutrient deficiencies, amenorrhea, a gut parasite, and scoliosis.  Dr. Carla embarked on a new learning journey to become a Nutritional Counsellor, Functional Diagnostic Nutritionist, and Remedial Massage Therapist. 
Read More »
Lorna is a 5-time World Champion, author and personal trainer, with a Bachelor's in Exercise Science, but her greatest triumph is not visible to the eye. Her journey was shaped by a relentless hunger to experience her full potential, guiding her to the highest ranks in Kettlebell Sport. 
Read More »
Karen has been in the Health and Fitness industry for over 22 years. She is a Registered Holistic Nutritionist, Culinary Nutrition Expert, Personal Trainer, Yoga Instructor, Fascial Stretch Therapist and Thai Massage practitioner.
Read More »
Renee is an entrepreneur at Chew-That Boutique Pet Store Chain in Ottawa, Ontario CANADA. She has a love of pets is a pet health advocate. In this episode Renee and I chat about Canine HTMA (Hair Tissue Mineral Analysis). That's right, this amazing diagnostic test isn't just for us humans, but also our furry friends!!!
Read More »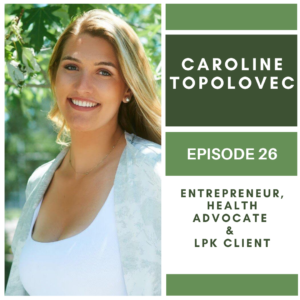 Caroline is an entrepreneur at Matter of Growth, a company that helps entrepreneurs start businesses from scratch. She also works with IverSoft as an account executive. Caroline has been struggling to find the root cause of her health issues for years. Spending thousands and thousands of dollars along the way.
Read More »