VESPA STIMULANT FREE ENERGY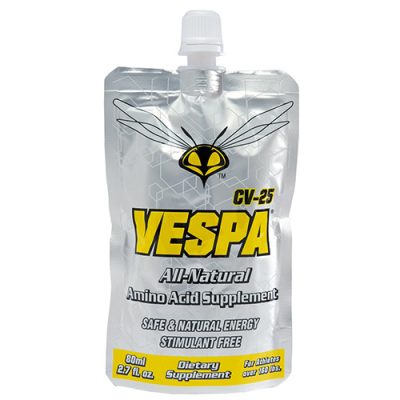 VESPA has been the vanguard in the "Fat for Fuel" movement for athletic performance long before fat-adaptation became trendy and co-opted by a number of internet health/wellness/athletic performance gurus. 
In 2008, Peter Defty, GM of VESPA's N. American operations, began investigating how to develop and support VESPA users to consistently obtain the results we at VESPA, knew were not only possible but proven with winning results.  
VESPA's Flagship product, VESPA CV-25, is recommended for athletes weighing over 140 pounds / 65 kilograms, however, many athletes weighing less find they prefer CV-25 due to its 100 mg dose of the Wasp Extract Peptide. VESPA CV-25 is formulated as a "ready-to-go" 2.7 fluid ounce / 80 ml. drink taken 30-45 minutes prior to commencing physical activity and every 2-3 hours for activities of greater than 2-3 hours in duration.